Start with these easy steps below to learn how the wonders of Heaven can begin to chase after you.
Step 1: Get to Know Us Better
Learn more about who we are and how we can help you encounter the wonders of Heaven by first reading the About Us page.
Step 2: Read These Key Posts First
Learn how you can have Heaven follow you everywhere by first reading the posts below. These key posts will give you a good start showing you how to transform your life so the unlimited resources of Heaven chase after you where miracles and wonders become an everyday normal experience for you:
Step 3: Subscribe to My Free Email Newsletter – Heaven Follows You
Learn how to experience real encounters with the Father (God) yourself as I share my own personal Father Encounters with you every week. Don't miss any of my upcoming weekly posts. Subscribe today and start learning how to have real conversations with the Father every day as if He is in the same room with you. You will also get my free eBook Win Big Against the Enemy.
Subscribe to my free newsletter here:
Step 4: Read My eBooks
Discover the only way you can fully participate in everything the Father and Heaven has to offer you. In addition, you will learn how you can experience God's presence all the time. You can also find out what is getting in the way of you experiencing all the wonders of Heaven following you everywhere. Finally, as a bonus, you can discover what God thinks about riches and how you can unlock your full potential God has for you.
I want everyone to be able to get a copy of these books so I am offering them to you at any price you want to give me (see details on my Store front page). Click on the links below to find out more about each book and to get a copy:
Step 5: Experience Heaven Following You
Once you have finished the above steps, you are now ready to start experiencing for yourself the wonders of Heaven. Click on the yellow button below to explore the 2nd phase and start experiencing for yourself Heaven following you: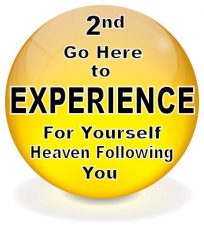 Share this page with your friends.